...an encyclopedic guide to the HBO television series Game of Thrones that anyone can edit. Our content is up to date with the latest aired episode so beware of unwanted plot details if you are not.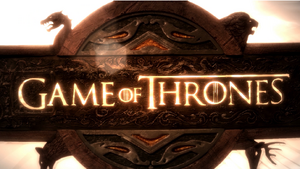 Game of Thrones: A Telltale Games Series is an immersive graphic adventure game set during the events of HBO's Game of Thrones. Unlike most adventure games, Telltale's Game of Thrones focuses on narrative and consequences. Every decision in this game matters. Take on the role of a member of House Forrester and protect your house against turmoil and destruction. Find out more in our Super Walkthrough!
We are currently housing
3,641
articles, and
9,881
files.
We need YOUR help expanding and adding articles to the wiki! If you're new to Wikia, please take a moment to read the Wiki tutorial before getting started.
If you're new to this wiki, please observe our Policies and guidelines, and if you get stuck feel free to check in at the help desk.
---
---
If you've read the tutorial or already have editing experience, and you have an article relating to Game of Thrones to contribute, you may use the box below to create it:
Game of Thrones is a television series produced by HBO based on the Song of Ice and Fire novels written by George R.R. Martin, debuting in April 2011. This wiki is specifically based on the television series and spoilers from the novels are not permitted.
For a wiki about the A Song of Ice and Fire novels, see Wikia's Song of Ice and Fire Wiki or Westeros.org's A Wiki of Ice and Fire, but beware potential spoilers for the TV series.
HBO just announced that it is hearing pitch ideas for Game of Thrones prequel series: are you comfortable with the fact that showrunners Benioff and Weiss are still attached as executive producers for them?
Last result: After 643 votes, asked which Season 6 Histories & Lore featurette they liked the most, 34.37% of fans said "The Great Tourney at Harrenhal".
SEE MORE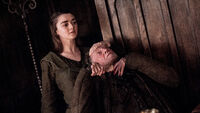 Assassinations at the Twins–
The Assassinations at the Twins is an event late in the War of the Five Kings where Lord Walder Frey, the Lord of the Crossing, Lord of Riverrun, and Lord Paramount of the Trident, as well as his sons "Lame Lothar" Frey and "Black Walder" Rivers, are murdered by Arya Stark, who was previously believed to be dead. The death of these three individuals avenges the Red Wedding for the Stark family."The Winds of Winter" Although the assassinations of Black Walder and Lothar are not shown onscreen, the death of Lord Walder is depicted in the episode "The Winds of Winter".
Read more or see the archive.
HBO - The FIRST official Season 7 trailer has arrived!
EW.com - HBO has ordered pitch proposals for FOUR potential Game of Thrones prequel projects!! Possibly Robert's Rebellion, Tales of Dunk and Egg, Dance of the Dragons, and/or the Targaryen Conquest & Faith Militant uprising.
Ice & Fire Con - Benioff & Weiss, "You're Welcome".
March 30: HBO releases first teaser trailer for Season 7 (no new footage).
MakingGameOfThrones.com - First official character promo images for Season 7!
WatchersOnTheWall.com - Season 7 premiere date announced: July 16, 2017.
WatchersOnTheWall.com - Neil Fingleton, tallest man in the UK, who played the giant Mag the Mighty, has died.
SXSW.com - Showrunners David Benioff and D.B. Weiss, and cast members Sophie Turner (Sansa) and Maisie Williams (Arya) will appear in a panel at the South By Southwest Festival (SXSW) in Austin, Texas, on March 12th, 2017.
Watchers On The Wall - Filming on Season 7 will wrap in February 2017, and filming for Season 8 will begin in September 2017.
Entertainment Weekly - HBO releases official statement that United Kingdom exiting the European Union will not affect tax incentives for Game of Thrones primary filming in Northern Ireland.
Game of Thrones Wiki - our Triarch, QueenBuffy, has updated our Blocking Policy to reflect the ever-changing challenges and issues of GoT Wiki. Consult it to solve your doubts.
Watchers on the Wall - Salary negotiations for the final seasons are said to be underway.
The Game of Thrones television series is an adaptation of the Song of Ice and Fire novels but will deviate from them in some areas. In addition this wiki is meant for the enjoyment of watchers of the television series who do not have any knowledge of the books. For this reason, spoilers and events from the books are not permitted on entries on this Wiki. Information from the books can be added to entries once the TV series has reached the same point in the story. For book-specific information, please visit the Wiki of Ice and Fire.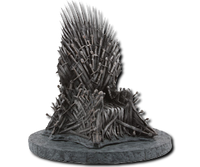 http://da.gameofthrones.wikia.com/wiki/Forside