This article is about the son of Rhaegar Targaryen. For other characters who share the same name, see: Aegon Targaryen (disambiguation).
Aegon Targaryen, the son of Prince Rhaegar Targaryen, is an unseen character in Game of Thrones. He is deceased when the events of the series begin and is not expected to appear in the series.
Biography
Background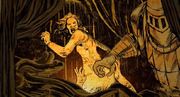 Aegon Targaryen was the son of Prince Rhaegar Targaryen and Princess
Elia Martell
. He had an older sister,
Rhaenys Targaryen
, and a younger paternal half-brother,
Jon Snow
.
[1]
[2]
For mysterious reasons, Rhaegar allegedly
abducted
Jon's mother
Lyanna Stark
, sparking a
rebellion
that ultimately deposed
House Targaryen
as the ruling house of
Westeros
. Rhaegar was killed by
Robert Baratheon
, who was Lyanna's betrothed, at the
Battle of the Trident
. Soon afterward, Aegon and Rhaenys were brutally murdered along with their mother by
Gregor Clegane
during the
Sack of King's Landing
.
[3]
Had he lived and ascended the throne, he would have ruled as "Aegon VI".
Family tree
In the books
In A Song of Ice and Fire, Aegon is the infant son of Prince Rhaegar Targaryen and Elia Martell and died in the Sack of King's Landing.
See also
References
Lord:
Queen Daenerys Targaryen
Heir:
None

Seat:
(Exiled)
Lands:
Title(s):
Queen of Meereen · Khaleesi of the Great Grass Sea · Queen of the Andals, the Rhoynar, and the First Men (claimant) · Lady Regnant of the Seven Kingdoms (claimant) · Protector of the Realm (claimant)
Ancestors:
Aegon I, the Conqueror · Visenya · Rhaenys · Aenys I · Maegor I, the Cruel · Jaehaerys, the Concilliator · Viserys I · Daemon · Rhaenyra · Aegon II · Aemond · Aegon III · Daeron I, the Young Dragon · Baelor the Blessed · Viserys II · Aegon IV, the Unworthy · Naerys · Aemon the Dragonknight · Daena the Defiant · Rhaena · Elaena · Daeron II, the Good · Daenerys Martell · Myriah Martell · Daemon Blackfyre · Brynden Rivers · Aegor Rivers · Shiera Seastar · Baelor Breakspear · Aerys I · Aelinor · Rhaegel · Maekar I · Aerion Brightflame · Aegon V, the Unlikely · Duncan the Small · Daeron
Deceased members:
Aerys II, the Mad · Rhaella Targaryen · Rhaegar Targaryen · Elia Martell · Rhaenys Targaryen · Aegon Targaryen · Viserys Targaryen · Drogo · Rhaego · Aemon Targaryen
Household:
Ser Jorah Mormont · Tyrion Lannister · {Ser Barristan Selmy} · {Rakharo} · Kovarro · Aggo · {Irri} · {Doreah} · Jhiqui · Malakho · Missandei · Grey Worm · Daario Naharis · {Mossador}