Aelinor Targaryen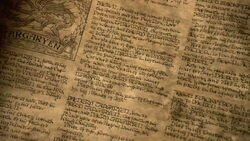 Appeared in
{{{Appearances}}}
Date of birth
{{{Birth}}}
[[:Category:{{{Images}}}|Images]]
Aelinor Targaryen is an unseen character in Game of Thrones. She is not expected to appear in the series, being long dead by the time it begins.
BiographyEdit
BackgroundEdit
Aelinor Targaryen was the only daughter of King Daeron the Good and Queen Myriah. Per the Targaryen tradition, she married her brother, King Aerys. Her other brothers were Baelor, Rhaegel, and Maekar.
Aelinor, along with her brothers, is mentioned in the House Targaryen's entry of the book The Lineages and Histories of the Great Houses of the Seven Kingdoms.[1]
Family treeEdit
In the booksEdit
In the A Song of Ice and Fire novels, Queen Aelinor died a maid, allegedly, and childless, as King Aerys shunned her bed and was more fond of his books and lore.
ReferencesEdit
Lord:
Queen Daenerys Targaryen
Heir:
None

Seat:
Meereen
Lands:
Exiled
Title(s):
Queen of Meereen · Khaleesi of the Great Grass Sea · Queen of the Andals, the Rhoynar, and the First Men (claimant) · Lady Regnant of the Seven Kingdoms (claimant) · Protector of the Realm (claimant)
Ancestors:
Aegon I, the Conqueror · Visenya · Rhaenys · Aenys I · Maegor I, the Cruel · Jaehaerys, the Concilliator · Viserys I · Rhaenyra · Aegon II · Aegon III · Daeron I, the Young Dragon · Baelor the Blessed · Viserys II · Aegon IV, the Unworthy · Naerys · Aemon the Dragonknight · Daena the Defiant · Rhaena · Elaena · Daeron II, the Good · Daenerys Martell · Myriah Martell · Daemon Blackfyre · Brynden Rivers · Aegor Rivers · Shiera Seastar · Baelor Breakspear · Aerys I · Aelinor · Rhaegel · Maekar I · Aerion Brightflame · Aegon V, the Unlikely · Duncan the Small
Current members:
Aemon Targaryen
Deceased members:
Aerys II, the Mad · Rhaella Targaryen · Rhaegar Targaryen · Elia Martell · Rhaenys Targaryen · Aegon Targaryen · Viserys Targaryen · Drogo · Rhaego
Household:
Ser Jorah Mormont (formerly) · Ser Barristan Selmy · {Rakharo} · Kovarro · Aggo · {Irri} · {Doreah} · Jhiqui · Malakho · Missandei · Grey Worm · Daario Naharis