An History of the Great Sieges of Westeros
Talk

0
Share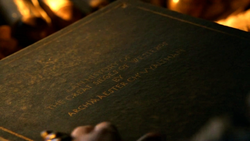 "Thrilling subject! Shame Archmaester Ch'Vyalthan wasn't a better writer."
An History of the Great Sieges of Westeros is a book detailing the history of the Great Sieges of Westeros by Archmaester Ch'Vyalthan.
History
Tyrion Lannister reads this book when preparing the defense of King's Landing from Stannis Baratheon's impending attack. Varys already read it, and while he says it is a thrilling subject, he muses on how Ch'Vyalthan was a flawed writer.[1]
References
Ad blocker interference detected!
Wikia is a free-to-use site that makes money from advertising. We have a modified experience for viewers using ad blockers

Wikia is not accessible if you've made further modifications. Remove the custom ad blocker rule(s) and the page will load as expected.