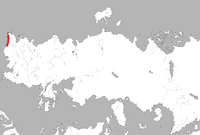 The Braavosian Coastlands form the north-western coast of Essos along the shores of the Narrow Sea. They run south from the Free City of Braavos towards its southern neighbor, Pentos.[1]
In the books
In the A Song of Ice and Fire novels, Braavos is the most powerful city-state on the Narrow Sea, but is constrained by the geographic limitations of the city (located on a series of small islands in a lagoon). To overcome this, it is presumed that Braavos has established colonies and other settlements on the coastline to the south.
See also
References
Ad blocker interference detected!
Wikia is a free-to-use site that makes money from advertising. We have a modified experience for viewers using ad blockers

Wikia is not accessible if you've made further modifications. Remove the custom ad blocker rule(s) and the page will load as expected.