Cedric Umber was one of the earliest recorded members of House Umber.
 Biography
Cedric Umber is an early member of House Umber. He was the son of Lord Joseth Umber and his wife, Lady Katrina Cerwyn.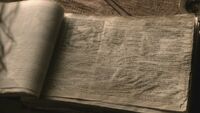 He has an entry in The Lineages and Histories of the Great Houses of the Seven Kingdoms.
 In the books
Cedric Umber is referenced only in the TV adaptation of A Song of Ice and Fire and has no corresponding counterpart in the books.