"I will do things for my family you couldn't imagine... I love my brother, I love my lover. People will whisper, they'll make their jokes - let them. They're all so small I can't even see them."
―Cersei
Cersei Lannister is a major character in the first, second, third, fourth and fifth seasons. She is portrayed by starring cast member Lena Headey and debuts in the series premiere. Cersei is the widow of King Robert Baratheon and Queen Regent of the Seven Kingdoms. She installed her son Joffrey Baratheon on the Iron Throne under the false claim that he was a legitimate son from her marriage but he was actually the product of her incestuous relationship with her younger twin brother Ser Jaime Lannister.
After her husband's death during a hunt, Cersei and Joffrey seize the throne, ignoring Robert's will which gave the regency to Eddard Stark. Lord Stark is arrested and later executed on Joffrey's order, an act which starts the War of the Five Kings. As King's Landing faces threat from Stannis Baratheon, Cersei engages in a struggle for power with her brother, Tyrion Lannister, who was acting as Hand of the King in their father's stead. After the Battle of the Blackwater, she becomes distrusful of House Tyrell, the Lannisters' main allies in the war, and especially of Margaery Tyrell, her son's betrothed.
After her son's death during his wedding, Cersei accuses her brother, Tyrion, of his murder and leads a heavily biased trial against him. However, despite being found guilty, Tyrion escapes and kills their father, Tywin Lannister, in the process. Without her father or brother in King's Landing, Cersei takes over the rule of the realm. However, displeased with the growing power of House Tyrell, she reestablishes the Faith Militant and has Loras Tyrell arrested for homosexuality. When Margaery perjures herself to save her brother, she is also arrested. However, Cersei's triumph is short-lived as she is also arrested on charges of incest, adultery and regicide.
BiographyEdit
BackgroundEdit
Cersei is the only daughter and eldest child of Joanna Lannister and Lord Tywin Lannister. Tywin is the head of House Lannister, the richest man in the Seven Kingdoms and Lord Paramount of the Westerlands. The Westerlands are one of the constituent regions of the Seven Kingdoms and House Lannister is one of the Great Houses of the realm. Cersei is the elder twin of Ser Jaime Lannister and the elder sister of Tyrion Lannister. She was raised in privilege in the family seat of Casterly Rock.[2] She is noted for her great beauty.
Cersei's mother died when she was four years old, after giving birth to her younger brother Tyrion. Like her father, Cersei has always blamed Tyrion for her mother's death and deeply resents that her mother died so that Tyrion would be brought into the world.[3][4] Cersei's father Tywin was constantly away from home during her childhood and teenaged years, serving as Hand of the King at the capital, with only infrequent visits back to his seat at Casterly Rock. Coupled with the death of her mother, this meant that Cersei and her two brothers were primarily raised by servants attached to House Lannister. She began an incestuous relationship with Jaime in her youth which has continued despite her marriage.[2] Cersei has had other partners but Jaime has always been faithful to her.[5]
When she was about fifteen, Cersei and her friend Melara visited Maggy, a woods witch and reputed fortunte teller dwelling in a hut deep in a forest close to Casterly Rock. Melara was reluctant, but Cersei convinced her to go. After rudely awakening her and insisting on having her future foretold, Maggy tasted a drop of her blood and revealed to Cersei she wouldn't marry "the Prince" but "the King", and while the king would have twenty sons, she would bear only three children who will wear golden crowns as well as golden shrouds. Finally, she revealed to Cersei that although she would indeed be Queen, she would be cast down by another, younger and more beautiful queen.[6]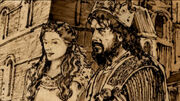 She is the wife of King Robert Baratheon, a political marriage Robert agreed to in thanks for her father's late switching of sides in the civil war which brought him to power. She was aged 19 when she married Robert and became Queen.[7] She has three children: Joffrey, Myrcella and Tommen. She claims that they are Robert's although they are actually illegitimate and a result of her relationship with her brother Jaime, which is not common knowledge.
Throughout The Games of Thrones SeriesEdit
PersonalityEdit
Cersei is willful, cold, ambitious, and cunning in the sense that she is utterly willing to betray anyone who trusts her, or do anything to protect her own. However, she is also arrogant and self-centered to a fault. While she certainly believes herself to be a master strategist, she is extremely impatient, short-sighted, and prone to displays of poor judgment, resulting in her being unskilled at manipulating enemies who openly distrust her. Cersei's own father Tywin stated to her that he distrusts her because she isn't nearly as intelligent as she believes herself to be.[45] This makes for a dangerous combination, as not only is Cersei unintelligent, but she does not even realize her own limitations.
A mistake outsiders often make when dealing with Cersei is assuming that she has the emotional maturity and wisdom of a queen, or at least an adult, when her real personality is closer to a petulant child inhabiting an adult's body (indeed, Lena Headey has stated that she plays Cersei as having the mind of a wayward 15 year old who never had an real parenting).[46] In public, Cersei often tries to exude a sense of calm and regal control over her surroundings. When things do not go her own way, however, Cersei's usual response is to become extremely flippant, even when the assembled Small Council is trying to give her advice which would genuinely serve her own interests. Cersei's behavior is very mercurial, capable of switching between seemingly true affection for someone to extreme loathing over trifles.
As Tyrion noted, Cersei often uses her honest feelings to dishonestly manipulate other people. For example, her fear for the safety of her children is actually genuine, but she will shamelessly use this to play on the sympathy of other people, to sway them into supporting her.[36]
Cersei despises the restraints placed on her because she is a woman and is jealous of the freedoms that men have in her society. Several of the noble Houses in the Seven Kingdoms have more liberal attitudes when it comes to involving female members of their family in politics. The women of House Tyrell, for example, are expected to be involved in politics and have thus been trained from a young age in the skills of ruling. Unfortunately, Cersei's father Tywin is a staunch conservative, and never envisioned Cersei playing an active role in politics. Instead, her duty was to cement a marriage alliance and raise royal children, nothing more. It is also possible that instead of her gender being the object, Tywin believes she is simply too impatient and rash. Either way, the practical result is that, right or wrong, Tywin didn't raise Cersei to be skilled in ruling or in political intrigue. While confronted with these shortfalls, Cersei often blames her father or society in general for not giving her the years of training needed to rule, but complaining about it doesn't change the fact that she simply doesn't possess these skills. Cersei hates being a woman in Westerosi society, and scorns other women in general for what she perceives as their weakness: Cersei isn't so much angry at men for mistreating women, as angry that she wasn't born a man.[22]
Cersei's lack of a parental relationship growing up is reflected in how poorly she has served as a mother to her own children, for whom she is unable to act as a stable moral instructor. While she certainly dotes on them, she doesn't genuinely "love" them so much as she treats them as extensions of herself. She is convinced that she is obsessed with their welfare, but when events threaten to take any of them away from her she is not so much worried about their happiness and well-being as angered that something she feels belongs to her is being taken away.[5]
Cersei also doesn't really "love" her children so much as she is obsessed with her mental constructs of them. She spent Joffrey's entire childhood convinced that he was going to grow up to be the best king ever, wise and brave - to the point that she blinded herself to his obviously psychopathic behavior. Her overindulgence of Joffrey also spoiled him rotten, filling him with an insatiable sense of entitlement - nor did he particularly give her much respect in return. Meanwhile, Cersei seems oblivious to the fact that she ignored her two younger children, Myrcella and Tommen. While Cersei is constantly upset that her own father Tywin played favorites with his children and focused all of her attention on her brother Jaime, she hypocritically visited the same treatment on her own children. She fixated on Joffrey so much that she barely knew Myrcella and Tommen, rarely engaging them in conversation except when she needed to manipulate them.[47] After Myrcella was sent away to Dorne in a marriage-alliance, Cersei assumed she was suffering away from her family, not suspecting that Myrcella would actually find happiness once she was free from Cersei's control and not even want to come back to her.[48]
AppearancesEdit
Image GalleryEdit
Family treeEdit
"When you play the game of thrones you win, or you die. There is no middle ground."
―Cersei to Eddard Stark
"You want to be Hand of the King? You want to rule? This is what ruling is; lying on a bed of weeds, ripping them out by the root, one by one, before they strangle you in your sleep!"
―Cersei
"Sometimes I wonder if this is the price, for what we've done, for our sins."
―Cersei to her brother Tyrion Lannister
"Tears aren't a woman's only weapon. The best one's between your legs."
―Cersei to Sansa Stark
"If I wanted to kill to you, do you think I'd let a wooden door stop me?"
―Cersei to her brother Tyrion Lannister
"If you ever call me sister again, I'll have you strangled in your sleep."
―Cersei to Margaery Tyrell
"Even Joffrey. He was all I had once. Before Myrcella was born. I used to spend hours looking at him. His wisps of hair, his tiny little hands and feet. He was such a jolly little fellow. You always hear the terrible ones were terrible babies. 'We should have known, even then we should have known.' It's nonsense. Whenever he was with me, he was happy. And no one can take that away from me — not even Joffrey."
―Cersei
"Joffrey is dead, Myrcella's been sold like livestock, and now you want to ship me off to Highgarden and steal my boy... my last boy. Margaery will dig her claws in and you will dig your claws in and you'll fight over him like beasts until you rip him apart! I will burn our house to the ground before I let that happen!"
―Cersei to her father Tywin Lannister
"Look at me! Look at my face. It's the last thing you'll see before you die."
―Cersei to the septas after she is arrested.
"I will not kneel before some bare-footed commoner and beg his forgiveness!"
―Cersei
Behind the ScenesEdit
Actress Lena Headey became pregnant just before Season 1 began filming. However, the production team was so enthusiastic about her performance, and the larger scale concern of having Headey play Cersei for several years, that they didn't recast the role but instead worked around her pregnancy by, for example, keeping the camera frame above her waist or having her sit at a table. For wide shots when Cersei is walking around, notice that most of Cersei's costumes in Season 1 have large billowing sleeves which she carries in front of her to hide her pregnancy. At other times, body doubles were shot from behind in quick-cuts. This may also explain why Cersei's sex scene with Jaime isn't as involved as it is in the books, in which they are both completely naked and have an extended conversation intermixed with lovemaking. In the TV series, Cersei and Jaime are mostly clothed, with Jaime simply pulling her dress up, and Jaime is taking her from behind, so the viewer can't see that the actress is pregnant.
The TV producers actually made it a point never to show Cersei naked since the beginning of the TV series, even during sex scenes, specifically to make it more shocking when her penance walk would occur years later (ultimately in Season 5's "Mother's Mercy".[49] Just before Season 4 aired, Lena Headey spoke about the upcoming scene in such a way that it vaguely seemed like she was considering performing it herself, but ultimately a body double was used (model Rebecca Van Cleave), and Lena's head was then digitally added onto her body. Why Headey ultimately used a body double is unclear: one possible but unconfirmed explanation is that in February 2015 (after filming had ended), Headey revealed that she was pregnant with her second child - but she was so upset about how the media had been invasive about the divorce of her first marriage that she would not reveal who the father was, or any other details about her personal life. Therefore it is unknown when she first became pregnant and if this could have interfered with any nude scenes.
In the booksEdit
In the A Song of Ice and Fire novels, Cersei is a beautiful but also somewhat cold woman who does not get along with her husband, whom she considers to be a fat oaf. However, she dotes on and loves her three children. She is not politically skilled, and frustrated that her options for power are limited by her gender. Cersei is close to her brother Jaime, but is cowed by her father and despises Tyrion, whom she blames for killing her mother Joanna, who died in childbirth.
According to the novels, Cersei never gave birth to any children of Robert. As she revealed to Eddard Stark she was only once pregnant with a child of Robert, but had the child aborted out of hatred for him. Robert was unaware to both the pregnancy and the abortion. In the TV series, she revealed to Catelyn Stark that she gave birth to a "beautiful, black-haired boy", (which given her gold-haired children with Jaime, must have been Robert's son), but the infant died of a fever.
According to the TV series official pronunciation guide developed for the cast and crew, "Cersei Lannister" is pronounced "SER-see LAN-iss-ter".
ReferencesEdit