DeObia Oparei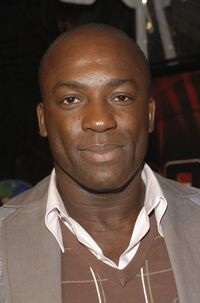 Date of Birth
{{{dateofbirth}}}
Birthplace
London, England
Role
Status
First episode
{{{First}}}
Appeared in
{{{Appearances}}}
DeObia Oparei 
​is an English actor.
As of 2014, he is 6'6'' tall and weighs about 275 pounds.[1]
Previous career
Edit
Oparei began his nearly three decades career, on the stage, working for some of the UK's most renowned theatre companies. Theatre De Complicite, The Royal Shakespeare Company and The Royal National Theatre, amongst them. Oparei began his film career with a small supporting role in Alien 3 (1992). And after successful seasons at the Sydney Theatre Company, most notably in the lead role of American playwright, John Guare's Six Degrees Of Separation, he scored his next supporting film role, as Le Chocolat, in Baz Luhrmann's film, Moulin Rouge. Oparei is also a playwright, his play Crazyblackmuthafuckin'self. A dramedy about race, sexuality, and identity opened to rave reviews at London's, The Royal Court Theatre. London's The Daily Telegraph gave the play a very positive review, and praised both Oparei's writing and his acting versatility.[2]
After Moulin Rouge!, Oparei entered into a steady film career, with roles in ​Doom, ​Mr. Nice​, Your Highness​, and Pirates of the Caribbean: On Stranger Tides. His most recent notable role was in the 2012 film Dredd, in which he played TJ the Paramedic.
Game of Thrones
Edit
In Game of Thrones he is playing the part of Areo Hotah in the fifth season.
Areo was apparently Caucasian in the novels - though of his physical appearance it is only briefly mentioned that he has white hair. Moreover, Areo is from the Free City of Norvos, and people from the Free Cities can plausibly be non-white due to their more mixed populations. Of this Oparaei said:
"In the books, Areo is white and so there are those fans who think he should be white. I think it's a good conversation to have on why is this character being played by a black actor when it was always written for a white character. We're having this thing now with Idris Elba possibly playing Bond and people saying Bond should be white. We're shifting. There is a paradigm shift going on. We are beginning to go, 'Let me cast you because you personify [the role]. You don't have to be black, you don't have to be white. Let me cast you because there is something about the way that you portray that [character] that really sings for me'."[3]
Guest-starring
Edit
External links
Edit
References
Edit