DeObia Oparei
Talk

0
2,639pages on
this wiki
DeObia Oparei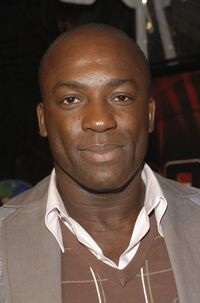 Date of Birth
{{{dateofbirth}}}
Birthplace
London, England
Role
Status
First episode
{{{First}}}
Appeared in
{{{Appearances}}}
DeObia Oparei 
​is an English actor.
As of 2014, he is 6'6'' tall and weighs about 275 pounds.[1]
Previous career
Edit
Oparei has had a diverse career. After a small supporting role in Alien 3 (1992), he has stated that he spent much of the 1990's as a drag queen street performer and "rent boy" (male prostitute). In 2002 he wrote and starred in a semi-autobiographical stage play about his experiences, Crazyblackmuthafuckin'self. The main character of the play is leading a triple life: by day, he is known as Femi, a studious, serious heterosexual black actor, son of Jehovah's Witnesses, and starring in a production of Othello; but by night, he slips into two alternate personas. Sometimes he is a "terrifying macho rent boy", tall and muscular, going by the name of "Big Black Jungle Nigga". Other nights, he adopts the persona of "Shaneequa", a transsexual, pre-op call girl, whose drag outfit consists of six inch high heels and tiny hot pants. London's The Daily Telegraph gave the play a very positive review, and praised both Oparei's writing and his acting versatility.[2]
DeObia's first big break came with a small part in the 2002 film Moulin Rouge!, after which he entered into a steady film career, with roles in ​Doom, ​Mr. Nice​, Your Highness​, and Pirates of the Caribbean: On Stranger Tides. His most recent notable role was in the 2012 film Dredd, in which he played TJ the Paramedic.
Game of Thrones
Edit
In Game of Thrones he is playing the part of Areo Hotah in the fifth season.
External links
Edit
References
Edit