Elyria
Talk

0
2,747pages on
this wiki
Elyria
[[Image:|Elyria|250px]]
Type
Mercantile city-state
[[:Category:{{{Images}}}|Images]]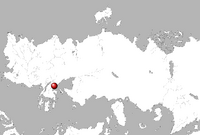 Elyria is a city on an island just off the coast of Essos, in the western part of Slaver's Bay. It is west of Tolos and southeast of Mantarys.[1][2]
In the books
Edit
In the A Song of Ice and Fire novels, Elyria is a city-state in the west of Slaver's Bay. It trades with the slaver cities of Meereen, Yunkai and Astapor to the east.
Elyria, Tolos, and Mantarys are the only three surviving cities on the Valyrian Peninsula, each in the northern sections not too close to Valyria itself when the Doom struck. They were colonies ruled directly by governors from the Valyrian Freehold, not "Free Cities" that had purchased contracts for some limited rule over local affairs. After the Doom, because they were located on the east coast, Elyria and Tolos developed developed closer ties with the Ghiscari cities of Slaver's Bay to the east, and fell into their economic and cultural orbit. Mantarys, however, is located far from the coast, up in the foothills of the Painted Mountains, and as a result it became increasingly isolated.
References
Edit