Ad blocker interference detected!
Wikia is a free-to-use site that makes money from advertising. We have a modified experience for viewers using ad blockers

Wikia is not accessible if you've made further modifications. Remove the custom ad blocker rule(s) and the page will load as expected.
Faye Marsay is an English stage and screen actress. She is known for her role as Anne Neville in The White Queen and as the recurring character Candice in Fresh Meat.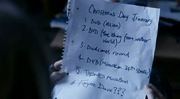 She also prominently appeared in the Doctor Who 2014 Christmas special as Shona - a character who was determined to marathon Game of Thrones over Christmas break.
In Game of Thrones, she portrays the Waif in Season 5 and Season 6.
Appearances
Edit
1. High Sparrow (5x03)
2. Unbowed, Unbent, Unbroken (5x06)
3. Hardhome (5x08)
4. Mother's Mercy (5x10)
5. The Red Woman (6x01)
6. Home (6x02)
7. Oathbreaker (6x03)
8. The Door (6x05)
9. Blood of My Blood (6x06)
10. The Broken Man (6x07)
11. No One (6x08)
Image gallery
Edit