Game of Thrones Wiki:Featured Article nomination
Talk

1
Past recipients of Featured Article status are listed in the Featured Article archive.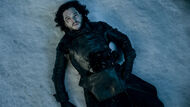 Mutiny at Castle Black–
The Mutiny at Castle Black is an event that occurs during the Conflict Beyond the Wall, in which numerous brothers of the Night's Watch mutiny against their Lord Commander, Jon Snow. Following the Battle of Castle Black, Jon Snow is elected the new Lord Commander of the Night's Watch. Having spent time with the Wildlings as part of an intelligence mission, Jon grows to sympathize with the wildlings and realizes that since both the Night's Watch and the wildlings are Northerners descended from the First Men.
Read more or see the archive.
See also: Featured Article archive