Past recipients of Featured Article status are listed in the Featured Article archive.
Current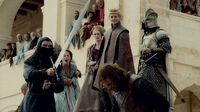 Execution of Eddard Stark–
The Execution of Eddard Stark is a pivotal event in the nascent conflict caused by the death of Robert Baratheon, paving the way for its transformation into a full-fledged civil war. The execution of Ned Stark was largely condemned by many major houses throughout the seven kingdoms on both sides of the war. Tywin Lannister refered to the action as "madness and stupidity", as it shattered the plans of House Lannister to make peace with House Stark and House Tully, allowing them to deal with both Renly and Stannis Baratheon. Tyrion Lannister laments that the execution "will haunt our family for a generation.
Read more or see the archive.
Archive
See also: Featured Article archive