Ad blocker interference detected!
Wikia is a free-to-use site that makes money from advertising. We have a modified experience for viewers using ad blockers

Wikia is not accessible if you've made further modifications. Remove the custom ad blocker rule(s) and the page will load as expected.
Game of Thrones
Ramin Djawadi
Released
June 28, 2011
Recorded
2011
Length
01:06:12
Label
Varèse Sarabande
Producer
Ramin Djawadi
Followed by
Game of Thrones Season 2 Soundtrack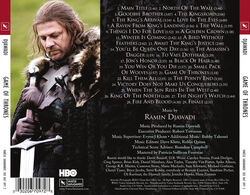 The Game of Thrones Season 1 Soundtrack was composed by Ramin Djawadi and was released on June 28, 2011. It was followed by the Game of Thrones Season 2 Soundtrack, released in 2012.
Track list
Edit
| # | Track Title | Length |
| --- | --- | --- |
| 1 | Main Title | 1:46 |
| 2 | North of the Wall | 3:48 |
| 3 | Goodbye Brother | 3:07 |
| 4 | The Kingsroad | 2:06 |
| 5 | The King's Arrival | 3:34 |
| 6 | Love in the Eyes | 4:00 |
| 7 | A Raven From King's Landing | 1:16 |
| 8 | The Wall | 1:59 |
| 9 | Things I Do for Love | 1:52 |
| 10 | A Golden Crown | 1:38 |
| 11 | Winter Is Coming | 2:42 |
| 12 | A Bird Without Feathers | 2:02 |
| 13 | Await the King's Justice | 2:00 |
| 14 | You'll Be Queen One Day | 1:36 |
| 15 | The Assassin's Dagger | 1:19 |
| 16 | To Vaes Dothrak | 1:29 |
| 17 | Jon's Honor | 2:35 |
| 18 | Black of Hair | 1:40 |
| 19 | You Win or You Die | 1:57 |
| 20 | Small Pack of Wolves | 1:57 |
| 21 | Game of Thrones | 1:18 |
| 22 | Kill Them All | 2:35 |
| 23 | The Pointy End | 3:16 |
| 24 | Victory Does Not Make Us Conquerors | 1:35 |
| 25 | When the Sun Rises in the West | 2:40 |
| 26 | King of the North | 1:28 |
| 27 | The Night's Watch | 1:44 |
| 28 | Fire and Blood | 4:30 |
| 29 | Finale | 2:31 |
External links
Edit