...an encyclopedic guide to the HBO television series Game of Thrones that anyone can edit. Our content is up to date with the latest aired episode so beware of unwanted plot details if you are not.
Game of Thrones: A Telltale Games Series is an immersive graphic adventure game set during the events of HBO's Game of Thrones. Unlike most adventure games, Telltale's Game of Thrones focuses on narrative and consequences. Every decision in this game matters. Take on the role of a member of House Forrester and protect your house against turmoil and destruction. Find out more in our Super Walkthrough!
We are currently housing
3,299
articles, and
9,017
files.
We need YOUR help expanding and adding articles to the wiki! If you're new to Wikia, please take a moment to read the Wiki tutorial before getting started.
If you're new to this wiki, please observe our Policies and guidelines, and if you get stuck feel free to check in at the help desk.
---
---
If you've read the tutorial or already have editing experience, and you have an article relating to Game of Thrones to contribute, you may use the box below to create it:
Game of Thrones is a television series produced by HBO based on the Song of Ice and Fire novels written by George R.R. Martin, debuting in April 2011. This wiki is specifically based on the television series and spoilers from the novels are not permitted.
For a wiki about the A Song of Ice and Fire novels, see Wikia's Song of Ice and Fire Wiki or Westeros.org's A Wiki of Ice and Fire, but beware potential spoilers for the TV series.
Only one episode left! Do you think the Sparrows will finally fall and leave Kings Landing??
Last result: After 3000 votes, asked "Do you think Jon Snow will take back Winterfell", 82% were correct in guessing that he would, but only with Sansa's help in getting more men.
SEE MORE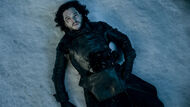 Mutiny at Castle Black–
The Mutiny at Castle Black is an event that occurs during the Conflict Beyond the Wall, in which numerous brothers of the Night's Watch mutiny against their Lord Commander, Jon Snow. Following the Battle of Castle Black, Jon Snow is elected the new Lord Commander of the Night's Watch. Having spent time with the Wildlings as part of an intelligence mission, Jon grows to sympathize with the wildlings and realizes that since both the Night's Watch and the wildlings are Northerners descended from the First Men.
Read more or see the archive.
The Game of Thrones television series is an adaptation of the Song of Ice and Fire novels but will deviate from them in some areas. In addition this wiki is meant for the enjoyment of watchers of the television series who do not have any knowledge of the books. For this reason, spoilers and events from the books are not permitted on entries on this Wiki. Information from the books can be added to entries once the TV series has reached the same point in the story. For book-specific information, please visit the Wiki of Ice and Fire.