Game of Thrones Wiki:Featured Article nomination
Talk

1
Past recipients of Featured Article status are listed in the Featured Article archive.
Current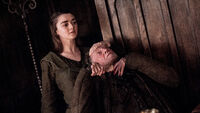 Assassinations at the Twins–
The Assassinations at the Twins is an event late in the War of the Five Kings where Lord Walder Frey, the Lord of the Crossing, Lord of Riverrun, and Lord Paramount of the Trident, as well as his sons "Lame Lothar" Frey and "Black Walder" Rivers, are murdered by Arya Stark, who was previously believed to be dead. The death of these three individuals avenges the Red Wedding for the Stark family."The Winds of Winter" Although the assassinations of Black Walder and Lothar are not shown onscreen, the death of Lord Walder is depicted in the episode "The Winds of Winter".
Read more or see the archive.
Archive
See also: Featured Article archive
Ad blocker interference detected!
Wikia is a free-to-use site that makes money from advertising. We have a modified experience for viewers using ad blockers

Wikia is not accessible if you've made further modifications. Remove the custom ad blocker rule(s) and the page will load as expected.