Game of Thrones Wiki:Featured Article nomination
Talk

1
Past recipients of Featured Article status are listed in the Featured Article archive.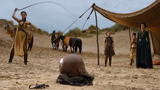 Sand Snakes–
The Sand Snakes are the eight bastard daughters of Prince Oberyn Martell. Although noble-born bastards are often ignored by their parents, Oberyn has acknowledged all his daughters and has loving relationships with each of them. They are all loyal members of House Martell. Their nickname comes from the bastard surname used for noble bastards in Dorne and the nickname of their father, the "Red Viper".
Read more or see the archive.
See also: Featured Article archive