Past recipients of Featured Article status are listed in the Featured Article archive.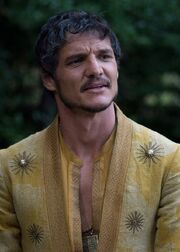 Oberyn Martell–
Oberyn Martell is a character that will debut in the fourth season and is portrayed by Pedro Pascal. Prince Oberyn, known as the Red Viper of Dorne, is the younger brother of Doran Martell, the Prince of Dorne, and the late Elia Martell.
Read more or see the archive.
See also: Featured Article archive