...an encyclopedic guide to the HBO television series Game of Thrones that anyone can edit. Our content is up to date with the latest aired episode so beware of unwanted plot details if you are not.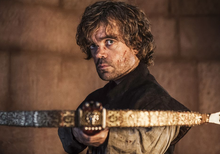 "The Children"
is the tenth episode of the fourth season of Game of Thrones. It is the fortieth episode of the series overall. It premiered on June 15, 2014. It was written by producers David Benioff and D.B. Weiss and directed by Alex Graves. Circumstances change after an unexpected arrival from north of the Wall. Dany must face harsh realities. Bran learns more about his destiny. Tyrion sees the truth about his situation.


READ MORE
Which new casting are you most excited about?
Last result: After 4211 votes, asked "Now that the Lannisters have defeated the Starks, how would you historically rank King Joffrey, First of His Name?", an overwhelming 77% said that they would rank Joffrey a "great king"...though there were only two options, and the other was "greatest king".
SEE MORE

Tommen Baratheon–
Tommen Baratheon is a recurring character in the first, second, fourth and fifth seasons. Following Joffrey's death at his wedding feast, Tommen is crowned King. His formal style is Tommen of the House Baratheon, First of His Name, King of the Andals and the First Men and Lord of the Seven Kingdoms. As he is not old enough to rule in his own right and command the military forces of the Seven Kingdoms, he does not yet bear the title of Protector of the Realm.
Read more or see the archive.
Create blog post
Refresh

In the world of Game of Thrones, greatness can be attained through cunning, strength, treachery, or even magic. But what happens when YOU have the power to decide who would win in an epic battle for Westeros supremacy?

You voted in 5 rounds, but the battle ended today. Only one could be victorious …




Read more >




To celebrate the upcoming release of The Witcher 3: Wild Hunt we've created an exciting personality quiz featuring the fiercest women warriors in fiction. Answer a wide variety of questions about your battle style, preferred tactics, and your interests to find out who you align with. Are you the pow…


Read more >


The Game of Thrones is a complex tale, so this'll make things easier to follow.

Hope it helped:)

Read more >
See more >
Game of Thrones is a television series produced by HBO based on the Song of Ice and Fire novels written by George R.R. Martin, debuting in April 2011. This wiki is specifically based on the television series and spoilers from the novels are not permitted.
For a wiki about the A Song of Ice and Fire novels, see Wikia's Song of Ice and Fire Wiki or Westeros.org's A Wiki of Ice and Fire, but beware potential spoilers for the TV series.
Refresh
See more >
The Game of Thrones television series is an adaptation of the Song of Ice and Fire novels but will deviate from them in some areas. In addition this wiki is meant for the enjoyment of watchers of the television series who do not have any knowledge of the books. For this reason, spoilers and events from the books are not permitted on entries on this Wiki. Information from the books can be added to entries once the TV series has reached the same point in the story. For book-specific information, please visit the Wiki of Ice and Fire.
We are currently housing
2,496
articles, and
5,428
files.
We need YOUR help expanding and adding articles to the wiki! If you're new to Wikia, please take a moment to read the Wiki tutorial before getting started.
If you're new to this wiki, please observe our Policies and guidelines, and if you get stuck feel free to check in at the help desk.
---
---
If you've read the tutorial or already have editing experience, and you have an article relating to Game of Thrones to contribute, you may use the box below to create it: