Home
Talk

92
2,169pages on
this wiki
...an encyclopedic guide to the HBO television series Game of Thrones that anyone can edit. Our content is up to date with the latest aired episode so beware of unwanted plot details if you are not.
"Breaker of Chains"
is the third episode of the fourth season of Game of Thrones. It is the thirty-third episode of the series overall. It premiered on April 20, 2014. It was written by executive producers David Benioff and D.B. Weiss and directed by Alex Graves. In the frenzied aftermath of the royal wedding, Tyrion gets a visit from a loyal subject, but wonders if anyone in his family will help him out of his current predicament. Meanwhile, Tywin offers to work for the common good with a presumed enemy; Sam takes stock of the personnel at Castle Black; the Hound gives another life lesson to Arya; and Daenerys makes a decision outside the walls of Meereen.


READ MORE

"Oathkeeper"
is the fourth episode of the fourth season of Game of Thrones. It is the thirty-fourth episode of the series overall. It will air on April 27, 2014. It was written by producer Bryan Cogman and directed by Michelle MacLaren. Dany balances justice and mercy. Jaime tasks Brienne with his honor. Jon secures volunteers while Bran, Jojen, Meera and Hodor stumble on shelter.


READ MORE
Now that the Lannisters have defeated the Starks, how would you historically rank King Joffrey, First of His Name?
Last result: After 3387 votes, 53% said that Pedro Pascal as Prince Oberyn Martell is the new casting for Season 4 they are most excited about.
SEE MORE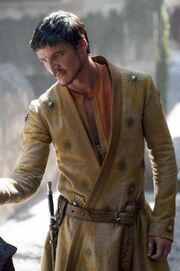 Oberyn Martell–
Oberyn Martell is a character that will debut in the fourth season and is portrayed by Pedro Pascal. Prince Oberyn, known as the Red Viper of Dorne, is the younger brother of Doran Martell, the Prince of Dorne, and the late Elia Martell.
Read more or see the archive.
Create blog post
Refresh
We're excited to return to Chicago for C2E2, April 25-27!  Wikia's "Game of Thrones Fan Forum is sure to be a favorite of the show's attending fans. I'll be moderating the panel discussion, and we'll have Werthead , founder of gameofthrones.wikia.com on the stage.

THE BIG NEWS: We're pleased to anno…

Read more >

This week Greater good and a Rotten Tomatoes critic faced off in Wikia's Fan vs. Critic: Game of Thrones! The Lion and the Rose was a great episode to discuss since it was what many fans had been waiting for thanks to a certain event that happened! Check out the video now and let us know what you th…

Read more >

Hi, everyone!

WE WANT YOU to be in an upcoming episode of Wikia's Fan vs. Critic, a new video series showcasing the knowledge and enthusiasm of the Game of Thrones community! More details on how you can join the fun below.

In each episode, a member of gameofthrones.wikia.com goes toe-to-toe with a cr…

Read more >
See more >
Game of Thrones is a television series produced by HBO based on the Song of Ice and Fire novels written by George R.R. Martin, debuting in April 2011. This wiki is specifically based on the television series and spoilers from the novels are not permitted.
For a wiki about the A Song of Ice and Fire novels, see Wikia's Song of Ice and Fire Wiki or Westeros.org's A Wiki of Ice and Fire, but beware potential spoilers for the TV series.
Refresh
See more >
The Game of Thrones television series is an adaptation of the Song of Ice and Fire novels but will deviate from them in some areas. In addition this wiki is meant for the enjoyment of watchers of the television series who do not have any knowledge of the books. For this reason, spoilers and events from the books are not permitted on entries on this Wiki. Information from the books can be added to entries once the TV series has reached the same point in the story. For book-specific information, please visit the Wiki of Ice and Fire.
We are currently housing
2,169
articles, and
4,188
files.
We need YOUR help expanding and adding articles to the wiki! If you're new to Wikia, please take a moment to read the Wiki tutorial before getting started.
If you're new to this wiki, please observe our Policies and guidelines, and if you get stuck feel free to check in at the help desk.
---
---
If you've read the tutorial or already have editing experience, and you have an article relating to Game of Thrones to contribute, you may use the box below to create it: