...an encyclopedic guide to the HBO television series Game of Thrones that anyone can edit. Our content is up to date with the latest aired episode so beware of unwanted plot details if you are not.
What did you think about Season 5 of Game of Thrones?
Last result: After 2269 votes, asked "What did you think of Sansa's and Jeyne Poole's condensed storyline?", 62% said "If they're that worried about not having time to fit in Sansa's Vale storyline, the Martells are truncated, and the Greyjoys have barely been around since Season 2...why aren't they pushing for more than 7 seasons again?"
SEE MORE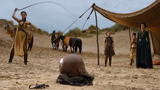 Sand Snakes–
The Sand Snakes are the eight bastard daughters of Prince Oberyn Martell. Although noble-born bastards are often ignored by their parents, Oberyn has acknowledged all his daughters and has loving relationships with each of them. They are all loyal members of House Martell. Their nickname comes from the bastard surname used for noble bastards in Dorne and the nickname of their father, the "Red Viper".
Read more or see the archive.
Create blog post
Refresh
I'm a VERY new fan of this series. I was surprised at how much I loved it. The series is one of the best that I've EVER seen.

Maybe some of you can answer some questions? (If you want)

Are the books as good as the series? I'm aware that the series and books don't always match up - but of those who ha…

Read more >

So for those of you who don't know, the video game Game of Thrones: A Telltale Games Series, is jam-packed full of easter eggs are various references to ASOIAF. Ranging from Frostfinger listing all nineteen castles on the Wall, to Mira's copy of Wonders Made by Man by Lomas Longstrider, it's eviden…

Read more >




Update

Thanks you for submitting some awesome questions for Russ and Alex to answer. The submissions for questions has ended and we'll update this blog with a video of Russ and Alex answering your questions soon!


Howdy GoT fanatics,

Wikia will be conducting a Q&A -- fully fueled by your questions -- wit…

Read more >
See more >
Game of Thrones is a television series produced by HBO based on the Song of Ice and Fire novels written by George R.R. Martin, debuting in April 2011. This wiki is specifically based on the television series and spoilers from the novels are not permitted.
For a wiki about the A Song of Ice and Fire novels, see Wikia's Song of Ice and Fire Wiki or Westeros.org's A Wiki of Ice and Fire, but beware potential spoilers for the TV series.
Refresh
See more >
The Game of Thrones television series is an adaptation of the Song of Ice and Fire novels but will deviate from them in some areas. In addition this wiki is meant for the enjoyment of watchers of the television series who do not have any knowledge of the books. For this reason, spoilers and events from the books are not permitted on entries on this Wiki. Information from the books can be added to entries once the TV series has reached the same point in the story. For book-specific information, please visit the Wiki of Ice and Fire.
We are currently housing
3,006
articles, and
7,412
files.
We need YOUR help expanding and adding articles to the wiki! If you're new to Wikia, please take a moment to read the Wiki tutorial before getting started.
If you're new to this wiki, please observe our Policies and guidelines, and if you get stuck feel free to check in at the help desk.
---
---
If you've read the tutorial or already have editing experience, and you have an article relating to Game of Thrones to contribute, you may use the box below to create it: