Home
Talk

63
1,883pages on
this wiki
...an encyclopedic guide to the HBO television series Game of Thrones that anyone can edit. Our content is up to date with the latest aired episode so beware of unwanted plot details if you are not.
"Mhysa"
is the tenth and final episode of the third season of Game of Thrones. It is the thirtieth episode of the series overall. Joffrey challenges Tywin. Bran tells a ghost story. In Dragonstone, mercy comes from strange quarters. Dany waits to see if she is a conqueror or a liberator.


READ MORE

Season 4 of Game of Thrones was formally commissioned by HBO on 2 April 2013, following a substantial increase in audience figures between the second and third seasons. The season will commence production on 8 July 2013 and air in the first half of 2014. David Benioff and D.B. Weiss are to return as showrunners, having signed a new two-year contract with HBO prior to the commissioning of the third season.


READ MORE
What new casting are you most excited about?
Last result: After 3712 votes, 84% said Talisa wasn't a spy and genuinely loved Robb Stark.
SEE MORE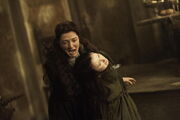 Red Wedding–
The Red Wedding is a massacre during the War of the Five Kings arranged by Lord Walder Frey as revenge against King Robb Stark for breaking the marriage pact between House Stark and House Frey. During the massacre, King Robb, his wife, Queen Talisa, his mother, Lady Catelyn, and most of his bannermen and men-at-arms are murdered following the marriage feast and bedding of Edmure Tully and Roslin Frey.
Read more or see the archive.
Create blog post
Refresh

Hi Guys,

Wikia has teamed up with Loot Crate to run a cool Giveaway where you vote on items, some of them from Game of Thrones, to create your ultimate Loot Crate. You can then enter to win the crates and if you don't win you can still purchase them!

You can check it out here -- http://www.wikia.com/…


Read more >

First news update on the Season 3 Blu-ray box set: http://winteriscoming.net/2013/11/season-3-box-set-details-and-bonus-feature-clip/

No specific word on the "Histories and Lore" featurettes, aka the "Complete Guide to Westeros", which will be included. But each of the past two season box sets came …

Read more >

Be sure to also swing by our Know Days page to vote on the contents of swag boxes (Fantasy, Heroes, and Sci-fi) offered by Loot Crate with a chance to win one!

Check it out, Game of Thrones fans!

You said what you wanted from the Game of Thrones universe, and we curated a list of the top 5 choices! Wh…

Read more >
See more >
Game of Thrones is a television series produced by HBO based on the Song of Ice and Fire novels written by George R.R. Martin, debuting in April 2011. This wiki is specifically based on the television series and spoilers from the novels are not permitted.
For a wiki about the A Song of Ice and Fire novels, see Wikia's Song of Ice and Fire Wiki or Westeros.org's A Wiki of Ice and Fire, but beware potential spoilers for the TV series.
Refresh
See more >
The Game of Thrones television series is an adaptation of the Song of Ice and Fire novels but will deviate from them in some areas. In addition this wiki is meant for the enjoyment of watchers of the television series who do not have any knowledge of the books. For this reason, spoilers and events from the books are not permitted on entries on this Wiki. Information from the books can be added to entries once the TV series has reached the same point in the story. For book-specific information, please visit the Wiki of Ice and Fire.
We are currently housing
1,883
articles, and
3,655
files.
We need YOUR help expanding and adding articles to the wiki! If you're new to Wikia, please take a moment to read the Wiki tutorial before getting started.
If you're new to this wiki, please observe our Policies and guidelines, and if you get stuck feel free to check in at the help desk.
---
---
If you've read the tutorial or already have editing experience, and you have an article relating to Game of Thrones to contribute, you may use the box below to create it: