Home
Talk

140
2,543pages on
this wiki
...an encyclopedic guide to the HBO television series Game of Thrones that anyone can edit. Our content is up to date with the latest aired episode so beware of unwanted plot details if you are not.
"The Children"
is the tenth episode of the fourth season of Game of Thrones. It is the fortieth episode of the series overall. It premiered on June 15, 2014. It was written by producers David Benioff and D.B. Weiss and directed by Alex Graves. Circumstances change after an unexpected arrival from north of the Wall. Dany must face harsh realities. Bran learns more about his destiny. Tyrion sees the truth about his situation.


READ MORE

"Season 5"
of Game of Thrones was formally commissioned by HBO on 8 April 2014, following a substantial increase in audience figures between the third and fourth seasons. It is expected to premiere in April 2015. Season 5 will consist of material from both the fourth and fifth novels of the A Song of Ice and Fire book series, A Feast for Crows and A Dance with Dragons. The two novels take place simultaneously alongside one another.


READ MORE
Which change from book to TV series are you least satisfied with?
Last result: After 1790 votes, asked "Which new casting are you most excited about?", 28.03% said Alexander Siddig as Prince Doran Martell.
SEE MORE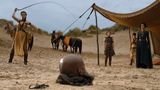 Sand Snakes–
The Sand Snakes are the eight bastard daughters of Prince Oberyn Martell. Although noble-born bastards are often ignored by their parents, Oberyn has acknowledged all his daughters and has loving relationships with each of them. They are all loyal members of House Martell. Their nickname comes from the bastard surname used for noble bastards in Dorne and the nickname of their father, the "Red Viper".
Read more or see the archive.
Create blog post
Refresh
The Season 5 trailer: https://www.facebook.com/video.php?v=10152715877082734&set=vb.74133697733&type=2&theater

We don't clearly see any Dornish characters (they are in it, but not slow lingering headshots)

...judging by Varys, it would seem that the entire Bastard of Blackfyre subplot with Young Gri…

Read more >

Hello guys, this is Warmachine375, my first blog in Game of Thrones wiki and my blog is about "A possible Game of Thrones anime/animated series."

It might sound old news to you guys if you already knew that like the anime drawings of the GoT characters (they're so awesome to look at by the way ;) He…

Read more >

UPDATE: Here's the Wikia Fannotation for Telltale's Game of Thrones - The Lost Lords trailer. Did you spot anything else? Share it in the comments!

Read more >
See more >
Game of Thrones is a television series produced by HBO based on the Song of Ice and Fire novels written by George R.R. Martin, debuting in April 2011. This wiki is specifically based on the television series and spoilers from the novels are not permitted.
For a wiki about the A Song of Ice and Fire novels, see Wikia's Song of Ice and Fire Wiki or Westeros.org's A Wiki of Ice and Fire, but beware potential spoilers for the TV series.
Refresh
See more >
The Game of Thrones television series is an adaptation of the Song of Ice and Fire novels but will deviate from them in some areas. In addition this wiki is meant for the enjoyment of watchers of the television series who do not have any knowledge of the books. For this reason, spoilers and events from the books are not permitted on entries on this Wiki. Information from the books can be added to entries once the TV series has reached the same point in the story. For book-specific information, please visit the Wiki of Ice and Fire.
We are currently housing
2,543
articles, and
5,617
files.
We need YOUR help expanding and adding articles to the wiki! If you're new to Wikia, please take a moment to read the Wiki tutorial before getting started.
If you're new to this wiki, please observe our Policies and guidelines, and if you get stuck feel free to check in at the help desk.
---
---
If you've read the tutorial or already have editing experience, and you have an article relating to Game of Thrones to contribute, you may use the box below to create it: