...an encyclopedic guide to the HBO television series Game of Thrones that anyone can edit. Our content is up to date with the latest aired episode so beware of unwanted plot details if you are not.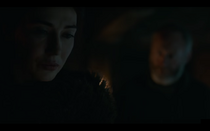 "Home" is the second episode of the sixth season of Game of Thrones. It is the fifty-second episode of the series overall. It aired on May 2, 2016. It was written by David Benioff and D.B. Weiss, and directed by Jeremy Podeswa. Bran trains with the Three-Eyed Raven. In King's Landing, Jaime advises Tommen. Tyrion demands good news, but has to make his own. At Castle Black, the Night's Watch stands behind Thorne. Ramsay Bolton proposes a plan, and Balon Greyjoy entertains other proposals.

READ MORE
Other than the cliffhanger about Jon Snow and the Wall, which storyline are you most looking forward to in Season 6?
Last result: After 2269 votes, asked "What did you think of Sansa's and Jeyne Poole's condensed storyline?", 62% said "If they're that worried about not having time to fit in Sansa's Vale storyline, the Martells are truncated, and the Greyjoys have barely been around since Season 2...why aren't they pushing for more than 7 seasons again?"
SEE MORE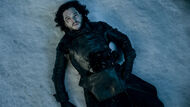 Mutiny at Castle Black–
The Mutiny at Castle Black is an event that occurs during the Conflict Beyond the Wall, in which numerous brothers of the Night's Watch mutiny against their Lord Commander, Jon Snow. Following the Battle of Castle Black, Jon Snow is elected the new Lord Commander of the Night's Watch. Having spent time with the Wildlings as part of an intelligence mission, Jon grows to sympathize with the wildlings and realizes that since both the Night's Watch and the wildlings are Northerners descended from the First Men.
Read more or see the archive.
Create blog post
Refresh
I wonder what Dany will do now that she is expected to spend the rest of her days with the other widows of Khals.

Read more >

Whose your favorite Dragon in the Game of Thrones series?

Read more >

Game of Thrones has had more than its fair share of memorable characters. Even though the death-happy George R.R. Martin has managed to kill off many of the ones we've loved — and loved to hate — there's no denying that some characters stand out better in our memory than others.

With last weekend's …

Read more >
See more >
Game of Thrones is a television series produced by HBO based on the Song of Ice and Fire novels written by George R.R. Martin, debuting in April 2011. This wiki is specifically based on the television series and spoilers from the novels are not permitted.
For a wiki about the A Song of Ice and Fire novels, see Wikia's Song of Ice and Fire Wiki or Westeros.org's A Wiki of Ice and Fire, but beware potential spoilers for the TV series.
Refresh
See more >
The Game of Thrones television series is an adaptation of the Song of Ice and Fire novels but will deviate from them in some areas. In addition this wiki is meant for the enjoyment of watchers of the television series who do not have any knowledge of the books. For this reason, spoilers and events from the books are not permitted on entries on this Wiki. Information from the books can be added to entries once the TV series has reached the same point in the story. For book-specific information, please visit the Wiki of Ice and Fire.
We are currently housing
3,206
articles, and
8,606
files.
We need YOUR help expanding and adding articles to the wiki! If you're new to Wikia, please take a moment to read the Wiki tutorial before getting started.
If you're new to this wiki, please observe our Policies and guidelines, and if you get stuck feel free to check in at the help desk.
---
---
If you've read the tutorial or already have editing experience, and you have an article relating to Game of Thrones to contribute, you may use the box below to create it: