House Fossoway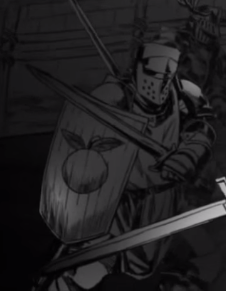 Sigil
A red apple on a gold field
Titles
Lord of Cider Hall
Military strength
{{{Military}}}
Cadet branches
House Fossoway of New Barrel
Date of founding
{{{Founding}}}
Ancestral weapon
{{{Weapon}}}
[[:Category:{{{Images}}}|Images]]
House Fossoway of Cider Hall is a vassal house from the Reach that holds fealty to House Tyrell. Their seat is Cider Hall and their sigil is a red apple on a gold field.
Background
Edit
Two members of House Fossoway fought in the Trial by seven of Duncan the Tall.[1]
House Fossoway follows their liege lords, House Tyrell, in pledging support to Renly Baratheon's claim to the Iron Throne. Following the death of Renly, however, the Fossoways do not follow their Tyrell overlords and instead go over to Stannis. They participate in the Battle of the Blackwater.[2]
Sam's sister Talla tells him their father intends to marry her to Simon Fossoway.
In the books
Edit
In the A Song of Ice and Fire novels, House Fossoway of Cider Hall is commonly referred as the red-apple Fossoways, to differentiate them from the other branch of the house, the "green apple" Fossoways of New Barrel, who split from the red apples in 208 AL. After Stannis' defeat at the Battle of the Blackwater, they bend the knee to Joffrey.
Leonette Fossoway is married to Ser Garlan Tyrell, elder brother of Margaery and Loras Tyrell.
References
Edit
↑

Season 2 Bluray: War of the Five Kings feature