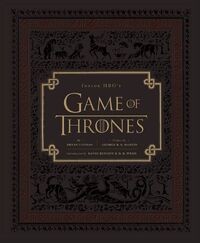 Inside HBO's Game of Thrones is a companion book about the TV series. It was published by Chronicle Books in the USA on 19 September 2012 and by Gollancz in the UK on 27 September 2012.[1]
The book is written by Bryan Cogman, who has also written two episodes of the series and serves as "keeper of the mythos" for the production. The book has an introduction by showrunners David Benioff and D.B. Weiss, and a preface by George R.R. Martin. As the official companion book to the series, information presented in this volume is treated as canon by this Wiki, unless contradicted by in-episode information.
The book contains in-universe material, such as family trees and maps, and behind-the-scenes sections, including interviews with cast and crew. It is 192 pages long and features more than 300 color photographs and illustrations, as well as eight gatefold sections.[2]
Layout
The book contains a preface by George R.R. Martin and a foreword by David Benioff and D.B. Weiss, in which they are quizzed by Bryan Cogman. The book is then divided into five sections, each with sub-sections dealing with aspects of the production.
Behind the Scenes
A Game of Pranks
Epilogue: Reflections on Game of Thrones
References
See also