'How to use / add Images' on Game of Thrones Wiki:
How to add your own image
A description of the image (What is happening in the image, who is in the image, etc)
The source of the image (Where did you find this image, was it a screencap? Was it from HBO.COM? Tumblr? EW?)
A licensing tag (Usually Fairuse and Permission will suffice as the license tag)
An appropriate category (Do not create categories unless you ask an admin. Most categories used are "Image (Character)" "Image (Season 1 (2) or (3)", etc) "Image (Tyrion Lannister)"
Make sure you uploaded image is properly titled/named. (Use a name that pertains to the image. No: sii23rsas.jpg instead: Dany in Second Sons.jpg.)
To add an image to this category, put [[Category:Instruction: Images]] in that image article.
Add to a page by using the Gallery widget or by using the code [[File:Filename.jpg|thumb|Caption]]
You can also link the image to a page using the code [[File:Filename.jpg|thumb|Caption|link=Example Page]]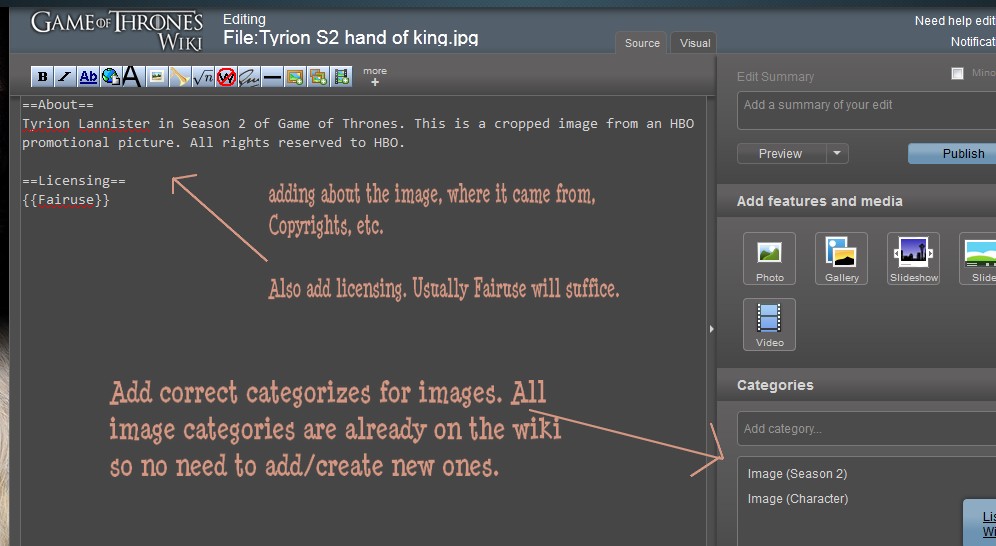 See Also
Ad blocker interference detected!
Wikia is a free-to-use site that makes money from advertising. We have a modified experience for viewers using ad blockers

Wikia is not accessible if you've made further modifications. Remove the custom ad blocker rule(s) and the page will load as expected.