Jojen Reed
Talk

2
1,721pages on
this wiki
Jojen Reed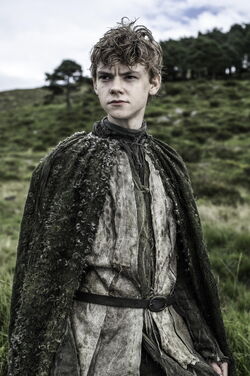 Mentioned in
{{{Mentioned}}}
Also known as
The Little Grandfather
Date of birth
{{{Birth}}}
[[:Category:{{{Images}}}|Images]]
"When I told my father about your father, the first time in my life I saw him cry."
―Jojen talking to Bran
Jojen Reed is a character in the third season. He is played by Thomas Brodie-Sangster. Jojen is the younger brother of Meera Reed and is the eldest son and heir of Lord Howland Reed of Greywater Watch.
Biography
Edit
​Background
Edit
Family tree

Edit
Appearances
Edit
Behind the scenes
Edit
Jojen Reed and his sister first appeared in the second book A Clash of Kings while the roles was not cast for the show's second season. David Benioff says, "We just felt [the Reed] would make more impact coming in later... If things get too byzantine, it's so confusing that none of it adds up, and you're spending three minutes with characters per episode, and the whole thing becomes a wash."[1]
Thomas Brodie-Sangster's casting was first announced at the 2012 San Diego Comic-Con International.[2]
In the books
Edit
In the A Song of Ice and Fire novels, Jojen Reed is the only son and heir of Lord Howland Reed of Greywater Watch, the southernmost of the vassal houses sworn to Winterfell. Jojen is thirteen and is noted as being serious and solemn for his age. It is Jojen and not Bran who dreams of the attack of the Ironborn, as well as the deaths of Alebelly, Septon Chayle and Mikken. When the Stark boys escape Winterfell with their wolves, Hodor, and Osha, the Reeds join them.
References
Edit