Jojen Reed
Talk

2
1,720pages on
this wiki
Jojen Reed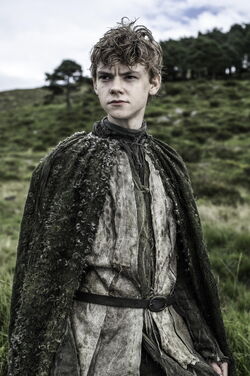 Mentioned in
{{{Mentioned}}}
Date of birth
{{{Birth}}}
[[:Category:{{{Images}}}|Images]]
Jojen Reed is a character in the third season. He is played by Thomas Brodie-Sangster. Jojen is the younger brother of Meera Reed and is the eldest son and heir of Lord Howland Reed of Greywater Watch.
Behind the scenes
Despite appearing in the second book A Clash of Kings the role was not cast for the show's second season. The part was confirmed for the third season in May 2012.[1] Thomas Brodie-Sangster was announced in the role in July 2012.[2]
In the books
In the A Song of Ice and Fire novels, Jojen Reed is the only son and heir of Lord Howland Reed of Greywater Watch, the southern-most of the vassal houses sworn to Winterfell. Disparagingly called "frog-eaters" due their lands lying in the swamps of the Neck, the Reeds and their followers (the crannogmen) keep themselves to themselves and rarely travel beyond their borders. However, Howland Reed was an exception to this, becoming a noted friend and ally of Lord Eddard Stark and fighting at his side at many key engagements during Robert's Rebellion.
Jojen and Meera were guests at Winterfell when it was taken by Theon Greyjoy. When the Stark boys escaped with their wolves, Hodor and Osha, the Reeds joined them.
Jojen foresaw the attack of the Ironborn, as well as the killing of Alebelly, septon Chayle and Mikken.
In the books Jojen is thirteen. He is noted as being serious and solemn for his age.
See also
References