Keisha Castle-Hughes
Talk

0
2,741pages on
this wiki
Keisha Castle-Hughes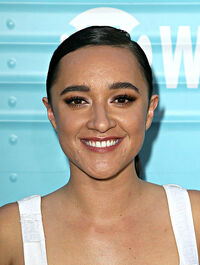 Date of Birth
24 March 1990
Role
Status
First episode
{{{First}}}
Appeared in
{{{Appearances}}}
Keisha Castle-Hughes is an Australian-born New Zealand actress. She has appeared in films such as Whale Rider, Star Wars Episode III: Revenge of the Sith, The Nativity Story, and Piece of My Heart. She has also appeared on The Walking Dead.
She received an Academy Award nomination for Best Actress for her debut performance in ​Whale Rider​, and at the time was, at age 13, the youngest person in history to be nominated for the award until 2012, with 9 year old Quvenzhané Wallis, nominated for Beasts of the Southern Wild.
As of 2015, Castle-Hughes lived in Los Angeles with her husband of two years Jonathan Morrison and her daughter from a previous relationship Felicity-Amore, age 7.[1]
On Game of ThronesEdit
In Game of Thrones, she will be playing the part of Obara Sand in the fifth season.
Keisha read the A Song of Ice and Fire novels long before it was announced that HBO was going to adapt them into a TV series.[2]
When the TV adaptation started to air on HBO she watched it avidly, but when Oberyn Martell was introduced in Season 4, she started to wonder if she could obtain a role in the show:
"When Pedro showed up, I said, 'Who is this person?' He was sexy and powerful and devilish. I went back to the books. I remembered the Sand Snakes. I felt I could pass as Pedro's daughter. And then I campaigned with the series' London casting directors. I was definitely persistent."[3]
She was trained in the Chinese martial art wushu for the role.[4]
External Links
Edit
References
Edit