Ad blocker interference detected!
Wikia is a free-to-use site that makes money from advertising. We have a modified experience for viewers using ad blockers

Wikia is not accessible if you've made further modifications. Remove the custom ad blocker rule(s) and the page will load as expected.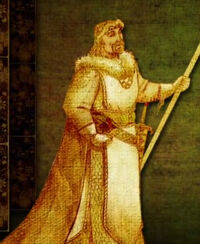 "The Lannisters reigned as Kings of the Rock for thousands of years... and worked to make it the envy of the rest of the Seven Kingdoms."
The King of the Rock ruled the Westerlands, then a sovereign state known as the Kingdom of the Rock, prior to the Targaryen conquest of Westeros. The title was traditionally held by the head of House Lannister. The last King of the Rock was Loren I Lannister, who submitted to Aegon the Conqueror after the Field of Fire and became the first Lord Paramount of the Westerlands.
Known Kings of the Rock
Edit
In the books
Edit
The King of the Rock was the title of the rulers of the Westerlands until House Lannister bent the knee to House Targaryen. The Lannisters were not kings from the start, when Lann the Clever (according to legend) took Casterly Rock from House Casterly. They declared themselves kings many generations later, after they had grown in wealth and influence (but still before the Andal Invasion).
Known Kings of the Rock before the Andal Invasion:
Known Kings of the Rock after the Andal Invasion: