Lann
Talk

0
2,169pages on
this wiki
Also known as
Lann the Clever
Date of birth
{{{Birth}}}
[[:Category:{{{Images}}}|Images]]
"We Lannisters claim our descent from the Andal invaders and, through the female bloodline, Lann the Clever. According to the legend, Lann, using only his wits won Casterly Rock from the noble house of Casterly during the Age of Heroes."
Lann, known as Lann the Clever, was a legendary trickster of the Age of Heroes. House Lannister boasts descent from him through the female line.
According to legend, Lann the Clever swindled Casterly Rock from its previous rulers, House Casterly, using nothing but his wits. [1][2]
In the books
Edit
In the A Song of Ice and Fire novels, Lann the Clever is the founder of House Lannister and a popular character among singers and storytellers. One of the stories narrates how he stole gold from the sun to brighten his hair.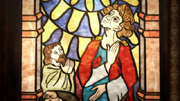 Although the Lannisters are of predominantly
Andal
blood, Lann was allegedly one of the
First Men
. His descendants through the female line married into the invading Andal family which conquered Casterly Rock and gave them his name.
See also
Edit
References
Edit