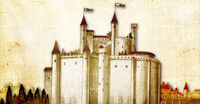 Lord Paramount of the Reach is a title held by the Great House of the Reach, House Tyrell. They have held the title since the death of Mern Gardener and the extinction of his House during the War of Conquest, when Harlen Tyrell, the Steward of Highgarden, bent the knee to Aegon the Conqueror.
Known Lords Paramount of the Reach
In the books
In the A Song of Ice and Fire novels, there is no mention of House Tyrell actually being granted the title of Lord Paramount. Instead, the title of "High Marshal of the Reach" seems to be the equivalent. This difference between House Tyrell and other Great Houses is never touched upon.
Ad blocker interference detected!
Wikia is a free-to-use site that makes money from advertising. We have a modified experience for viewers using ad blockers

Wikia is not accessible if you've made further modifications. Remove the custom ad blocker rule(s) and the page will load as expected.