Lordsport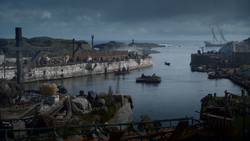 [[:Category:{{{Images}}}|Images]]

Lordsport is a port town on the island of Pyke, in the Iron Islands, and the seat of House Botley. It serves as the main port and supporting town for the castle of Pyke, the seat of House Greyjoy.[1]
Background
Edit
Lordsport was burned to the ground during the Greyjoy Rebellion as a prelude to the Siege of Pyke castle, but was rebuilt in intervening years.[2]
Theon Greyjoy arrives to Lordsport aboard the Myraham, sent by Robb Stark as an envoy to discuss an alliance with Balon Greyjoy.[1]
After choosing to side with his father in his conquest of the North, Theon returns to Lordsport to meet the crew of the Sea Bitch and set sail.[3]
Behind the scenes
Edit
The on-location scenes in Lordsport were filmed at the coastal town of Ballintoy, County Antrim, Northern Ireland.[4]
In the books
Edit
In the A Song of Ice and Fire novels, Lordsport is ruled for the Greyjoys by House Botley. It is one of the largest towns and ports in the Iron Islands.
References
Edit