Loren Lannister, also known as Loren I, is an unseen character in Game of Thrones. He is deceased when the series begins and appears in the Complete Guide to Westeros and Histories & Lore featurettes.
Biography
Background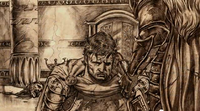 Loren Lannister was the last of the Lannister Kings of the Rock. When Aegon the Conqueror invaded Westeros, King Loren joined forces with Mern IX, the King of the Reach, to face Aegon in battle.
However, Aegon unleashed his three dragons, Vhagar, Meraxes and Balerion the Black Dread against the combined might of the Kingdoms of the Reach and the Rock. Four thousand men perished, consumed in a "field of fire," including King Mern. Seeing he had no chance of victory, King Loren bent the knee to Aegon and gave up his crown. He was named Lord Paramount of the Westerlands and Warden of the West.[1][2][3]
In the books
In the A Song of Ice and Fire novels, Loren's story is the same.
See also
References