Maron Martell
Talk

0
2,524pages on
this wiki
Maron Martell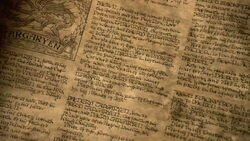 Appeared in
{{{Appearances}}}
Date of birth
{{{Birth}}}
[[:Category:{{{Images}}}|Images]]
Maron Martell is an unseen character in Game of Thrones. He is not expected to appear in the series, being long dead by the time it begins.
Biography
Background
Maron Martell was a Dornish Prince of the House Martell of Sunspear. He married Princess Daenerys Targaryen, while his sister Myriah married King Daeron II Targaryen.
Prince Maron's marriage to Princess Daenerys is mentioned in the House Targaryen's entry of the book The Lineage and Histories of the Great Houses of the Seven Kingdoms.[1]
In the books
In the A Song of Ice and Fire novels, Prince Maron married Princess Daenerys as part of the marriage pact that brought Dorne under the rule of the Iron Throne. He built the Water Gardens of Dorne as a gift for his bride.
See also
References