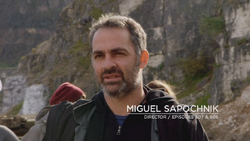 Miguel Sapochnik is an English director of film and television and former storyboard artist. He is best known as the director of the feature film Repo Men. His most notable television credits are House M.D., Fringe, Awake, and Mind Games.
On July 15, 2014, it was announced that Sapochnik would be directing two episodes in the fifth season, episodes seven and eight.[1] On June 4, 2015, Sapochnik revealed he would be back to direct for the sixth season, the ninth and the tenth episodes.[2]
Credits
Director
Season five credits
The Wars to Come
The House of Black and White
High Sparrow
Sons of the Harpy
Kill the Boy
Unbowed, Unbent, Unbroken
The Gift
Hardhome
The Dance of Dragons
Mother's Mercy
See also
References
Ad blocker interference detected!
Wikia is a free-to-use site that makes money from advertising. We have a modified experience for viewers using ad blockers

Wikia is not accessible if you've made further modifications. Remove the custom ad blocker rule(s) and the page will load as expected.