Poison
Talk

0
2,643pages on
this wiki
| | |
| --- | --- |
| | This article is a stub, an article too short to provide more than rudimentary information about a subject. You can help the Game of Thrones Wiki by expanding it. |
A poison is a toxic substance that disrupts the proper functions of the body, often with lethal effects.
Poison is used throughout the known world, though is more prevalent in the Free Cities. In the martial society of Westeros poison is regarded with contempt and considered a weapon used only by cravens and women. Maesters study poisons at the Citadel.
Known poisons
Edit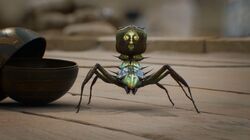 When Pycelle testifies at Tyrion's trial, he counts several of the poisons listed above.[1]
Many strong medicines, such as Essence of Nightshade, can also be fatal if a high enough dosage is consumed.
The Crannogmen who live in the Neck coat their arrows with poisons obtained in the surrounding swamps.[2]
Known Poisonings
Edit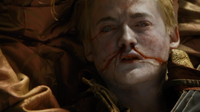 In the books
Edit
In the A Song of Ice and Fire novels, there is no specific medicine called "Essence of Nightshade": in the TV series, it appears to stand in for a variety of analgesic or anesthetic medicines which were present in the novels. "Essence of Nightshade" actually takes the place of a similar medicine in the novels, "Sweetsleep". The TV series started referring to "Essence of Nightshade" in Season 2, but then actually mentioned Sweetsleep in Season 4.
References
Edit