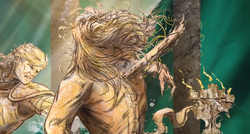 "Is that what you tell yourself at night? That you're a servant of justice? That you were avenging my father when you shoved your sword in Aerys Targaryen's back?"
―Eddard Stark to Jaime Lannister
Regicide, also known as kingslaying, is the deliberate act of murdering a monarch and is considered the most severe crime in the Seven Kingdoms. Whoever commits it is dubbed a kingslayer.
Somewhat like kinslaying, incest, or violating guest right, anyone who kills a king is believed to be cursed. Because the King of the Andals and the First Men is blessed by the High Septon of the Faith of the Seven at his coronation, it is considered a heinous crime in that religion to kill the king who sits the Iron Throne.
Known and alleged kingslayers
"Perhaps you should speak to me more softly then. Monsters are dangerous - and just now, kings are dying like flies."
―Tyrion Lannister to King Joffrey Baratheon after the Red Wedding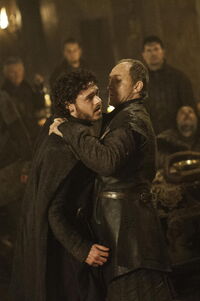 In the books
In the A Song of Ice and Fire novels, the taboo against kingslaying is much the same.
See also
References