Riverlands refugee
Talk

0
1,720pages on
this wiki
Riverlands refugee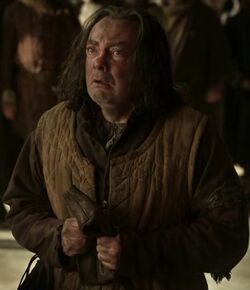 Mentioned in
{{{Mentioned}}}
Date of birth
{{{Birth}}}
[[:Category:{{{Images}}}|Images]]
A Riverlands refugee is an unnamed minor character in the first season. He is played by guest star Niall Cusack and only appears in "A Golden Crown."
Biography
Edit
He attends court in King's Landing to report a series of brutal raids being carried out by Gregor Clegane in the Riverlands. He wears the sigil of House Tully on his sleeve. He brings a sack of dead fish that had been left by Clegane at the scene of his atrocities. Eddard Stark responds by stripping Clegane of his titles and ordering his arrest.[1]
Appearance
Edit
Season one appearances
Winter is Coming
The Kingsroad
Lord Snow
Cripples, Bastards and Broken Things
The Wolf and the Lion
A Golden Crown
You Win or You Die
The Pointy End
Baelor
Fire and Blood
In the books
Edit
In the Song of Ice and Fire novels, his role is fulfilled by a trio of knights from the Riverlands (Karyl Vance, Marq Piper and Raymun Darry). In the episode four knights appear in court behind the man of the Riverlands.
References
Edit