Rodrik Greyjoy
Talk

0
2,542pages on
this wiki
Rodrik Greyjoy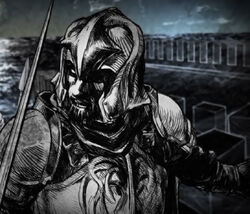 Appeared in
{{{Appearances}}}
Date of birth
{{{Birth}}}
[[:Category:{{{Images}}}|Images]]
"This isn't Winterfell, boy. Your sister took over command of your eldest brother's ship, after your new father killed him."
―Balon Greyjoy to Theon
Rodrik Greyjoy is an unseen character in Game of Thrones. He is deceased when the events of the series begin and is not expected to appear in the series. Rodrik Greyjoy was the son and heir of Balon Greyjoy, Lord Reaper of Pyke. Rodrik was killed fighting for his father in the Greyjoy Rebellion.
Biography
Background
Rodrik was the oldest son of Balon Greyjoy and Alannys Harlaw. Balon is the head of House Greyjoy, the Lord Reaper of Pyke and the Lord of the Iron Islands. After his father crowned himself King of the Iron Islands and rebelled against the Iron Throne Rodrik was killed fighting for his father in Seagard. Balon blamed Eddard Stark for his son's death.[1][2]
Family tree
In the books
In the A Song of Ice and Fire novels, Rodrik led a raid on the coastal castle Seagard during the Greyjoy Rebellion. He was killed by Lord Jason Mallister beneath the walls of Seagard.
See also
References