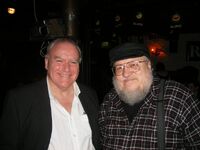 Ron Donachie (born 26 April 1956) is a Scottish actor. He has an immense list of acting roles to his name, including many UK television dramas, including Doctor Who, Rebus and The Bill. In film he may be best known for a supporting role in James Cameron's Titanic, where he played a character that was also called "Master-at-Arms".
In Game of Thrones Donachie is playing Ser Rodrik Cassel. He was confirmed in the role on 20 October 2009. He initially appeared as a guest star in the first season and returned in this role for the second season.
Ron is the father of Daniel Portman, who plays Podrick Payne.[1]
Credits
Guest starring
See also
References