Ad blocker interference detected!
Wikia is a free-to-use site that makes money from advertising. We have a modified experience for viewers using ad blockers

Wikia is not accessible if you've made further modifications. Remove the custom ad blocker rule(s) and the page will load as expected.
Rupert Vansittart is an actor cast in the role of Lord Yohn Royce in Season 4.[1] He returned to the role for Season 5 and Season 6.[2][3]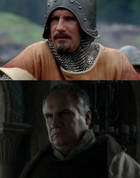 No stranger to gritty medieval set pieces, Vansittart is well known for appearing in the 1994 film Braveheart (alongside James Cosmo) as Lord Bottoms, the English lord who goes to Scotland and asserts the right of prima noctis (First Night) over the local Scots, sparking off a Scottish rebellion. Vansittart is also known for his performances on British television, appearing in series such as Doctor Who, The Bill, Mr. Bean and The Thin Blue Line (a series that also featured Mark Addy, Ben Crompton and Owen Teale, with Teale featuring in the same episode as Vansittart). He has also appeared in numerous British films such as Four Weddings and a Funeral, The Iron Lady and Johnny English Reborn.
Guest starring
Edit
Season four credits
Two Swords
The Lion and the Rose
Breaker of Chains
Oathkeeper
First of His Name
The Laws of Gods and Men
Mockingbird
The Mountain and the Viper
The Watchers on the Wall
The Children
Season five credits
The Wars to Come
The House of Black and White
High Sparrow
Sons of the Harpy
Kill the Boy
Unbowed, Unbent, Unbroken
The Gift
Hardhome
The Dance of Dragons
Mother's Mercy
References
Edit