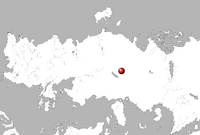 Samyrian is a city located in the east of Essos on the shores of the Jade Sea, north-east of the Red Waste and Lhazar, north of Bayasabhad, and south-east of Vaes Dothrak.[1] The name "Samyrian" comes from the HBO Season 2 Viewers' Guide, but it may be the same city that is called "Shamyriana" in the books and "Samyriana" in The Worlds of Ice and Fire ​book. If that is the case, "Shamyriana" is the correct name; however, the city in The Worlds of Ice and Fire ​is in a slightly different location.
In the books
Edit
In the A Song of Ice and Fire novels, no city called "Samyrian" has appeared. A city called "Shamyriana" has been mentioned. Like Bayasabhad, it is known for its warrior-women. Merchants from Shamyriana trade at Vaes Dothrak. It is unclear if Samyrian and Shamyriana are the same city or different locations.
The Lands of Ice and Fire map collection does feature a city called "Samyriana", located east of the Dothraki sea in roughly the same location but on the edge of a vast desert rather than on the coast of the Jade Sea (the Jade Sea having been moved on those maps so it runs south of Essos rather than forming a large bay within it).
Ran, the founder of Westeros.org and co-author of The Worlds of Ice and Fire book with George R.R. Martin, weighed in on the issue: while The Lands of Ice and Fire is meant to be the new canonical geography, the name "Samyriana" appearing on its maps is itself a misprint, and the proper spelling is indeed "Shamyriana". However, because the city was mentioned only once in the first novel, rather than live with a known misprint on the official maps, subsequent reprints of the first novel may just be revised to use the spelling "Samyriana".[2] Either way, the name of the city is supposed to end in an "a", and the HBO Season 2 map is in error.
References
Edit