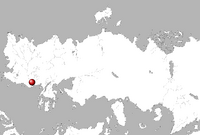 Sar Mell is a ruined city in western Essos, located on the eastern bank of the Rhoyne just north of its delta. The ruin is located north-west of Volantis and directly opposite the town of Volon Therys. The eastern banks of the Rhoyne lie at the far south-west of Dothraki influence.[1]
In the books
In the A Song of Ice and Fire novels, Sar Mell is a ruined Rhoynar city.
See also
References
Ad blocker interference detected!
Wikia is a free-to-use site that makes money from advertising. We have a modified experience for viewers using ad blockers

Wikia is not accessible if you've made further modifications. Remove the custom ad blocker rule(s) and the page will load as expected.