Shaggydog
Mentioned in
{{{Mentioned}}}
Date of birth
{{{Birth}}}
[[:Category:{{{Images}}}|Images]]
Shaggydog is one of six direwolf pups found by the children of House Stark. Shaggydog is adopted and raised by Rickon Stark, the youngest of the five Stark children.
Biography
Edit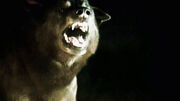 Shaggydog was adopted as a pup with the rest of the Stark direwolves when
Eddard Stark
and his entourage came upon the pups and their deceased mother. At the request of
Jon Snow
, the pups were spared a quick death and each Stark child adopted one as their own. Rickon names his direwolf Shaggydog.
[1]
Shaggydog leaps out at Bran and Osha in the Stark family crypt, frightening them and causing them to fall over. It is said that Shaggydog should be tied up, but he didn't like it.[2]
When Theon Greyjoy captures Winterfell, Shaggydog flees with Osha, Bran, Rickon, Hodor and Summer.[3] Shaggydog and Summer reunite with the fugitives, who had then hidden inside the crypts of Winterfell, after the castle is sacked and put to the torch.[4]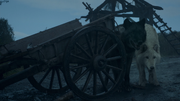 Shaggydog continues north with Rickon, Osha, Bran, Hodor, Summer. The group is later joined by
Jojen Reed
and his sister,
Meera
.
[5]
They stop to rest at a small farm, not realizing there is a group of
wildlings
nearby. When a thunderstorm startles Hodor and nearly causes him to give up the group's location to the wildlings, Bran
wargs
into Summer who is joined by Shaggydog in killing some of the wildlings. Realizing the dangers they face as they continue north, Bran decides to send Rickon away with Osha and Shaggydog to the protection of
House Umber
in order to protect Rickon. The three leave in the middle of the night towards
Last Hearth
.
[6]
Appearances
Edit
Image Gallery
Edit
Family tree
Edit
In the books
Edit
In the A Song of Ice and Fire novels, Shaggydog is the fiercest and least-disciplined of the six wolves, reflecting Rickon's willful nature. Bran thinks the wolf's name is stupid, but this might be expected as Rickon was only three years old when he named him, and only six in the TV series. "Shaggy" soon becomes a preferred name. He is described as black, with bright green eyes.
References
Edit