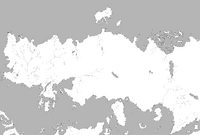 "During severe winters, when the Skahazadhan floods, it carves out great underground rivers in the sandstone."
The Skahazadhan is a major river in Essos. It flows southwest through Lhazar into the Bay of Dragons. The city of Meereen is located at the mouth of the river.[1]
In the books
In the A Song of Ice and Fire novels, the Skahazadhan is a slow river with brown water. Its source is in the hills and mountains west of the Jade Sea. The river flows south-west, dividing the Dothraki sea from the Red Waste, with Lhazar located in an arm of the river. The river flows through the Khazai Pass before entering Meereen's hinterland and finally the sea.
See also
References
Ad blocker interference detected!
Wikia is a free-to-use site that makes money from advertising. We have a modified experience for viewers using ad blockers

Wikia is not accessible if you've made further modifications. Remove the custom ad blocker rule(s) and the page will load as expected.