Starfall is a castle in Dorne, the region controlled by House Martell of Sunspear, and the seat of House Dayne. The castle is located in the far west of Dorne, near the border with the Reach and south of Blackmont.[1]
In the books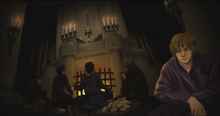 In the A Song of Ice and Fire novels, Starfall is the seat of House Dayne. It is located at the mouth of the River Torentine, downriver from Blackmont and the High Hermitage, which is held by a lesser branch of the Daynes.
Starfall is so-called because of a meteor, referred to as a "fallen star", which fell out of the sky nearby, almost two thousand years ago. The Daynes forged a sword out of the meteorite ore, called "Dawn", which is as resilient and formidable as a Valyrian steel weapon in combat.
See also
References
Ad blocker interference detected!
Wikia is a free-to-use site that makes money from advertising. We have a modified experience for viewers using ad blockers

Wikia is not accessible if you've made further modifications. Remove the custom ad blocker rule(s) and the page will load as expected.