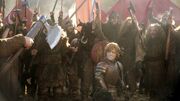 The Stone Crows are one of the Hill tribes that live in the Mountains of the Moon. They are led by Shagga, and presumably by Dolf before him. They have weapons, but nothing compared to the Knights of the Vale.
History
The Stone Crows encounter Tyrion Lannister and Bronn, who are returning from the Eyrie after Tyrion's trial there. The tribes initially intend to kill them, but Tyrion talks them into an alliance with the Lannisters who, he says, are enemies of the Vale and will supply the hill tribes with money and weapons to take over the region themselves. They accompany Tyrion to his father's military camp, and he agrees to honor his son's promises to them.[1] The tribes later take part in the victorious Battle of the Green Fork.[2]
See also
References
Ad blocker interference detected!
Wikia is a free-to-use site that makes money from advertising. We have a modified experience for viewers using ad blockers

Wikia is not accessible if you've made further modifications. Remove the custom ad blocker rule(s) and the page will load as expected.