Summer
Talk

0
1,717pages on
this wiki
Summer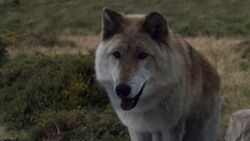 Mentioned in
{{{Mentioned}}}
Date of birth
{{{Birth}}}
[[:Category:{{{Images}}}|Images]]
Summer is one of six direwolf cubs found by the children of House Stark. Summer is adopted and raised by Bran Stark.
Biography
Edit
Summer followed Bran around wherever he climbed including the tower where Bran became a cripple.[1] After Bran is bedridden, an assassin tries to kill Bran, but Summer saves him by jumping on the assassin and ripping out his throat, killing him.[2]
Summer is kept inside the godswood of Winterfell. Bran is experiencing Summer's actions and movements in his dreams.[3] After Theon has taken Winterfell, Summer is seen fleeing through the Godswood with Osha, Bran, Rickon, Hodor and Shaggydog.[4]
Appearances
Edit
Season three appearances
Valar Dohaeris
Dark Wings, Dark Words
Walk of Punishment
And Now His Watch is Ended
Kissed by Fire
The Climb
The Bear and the Maiden Fair
Second Sons
The Rains of Castamere
Mhysa
Image Gallery
Edit
In the books
Edit
In the A Song of Ice and Fire novels, Summer is fiercely defensive of Bran, but is arguably the most playful of the five cubs. He is colored silver and smoky grey, with yellow eyes. Bran names him after waking up from his coma and later mentions , ".... he was the smartest of the litter"
References
Edit