Summer
Talk

0
2,717pages on
this wiki
Summer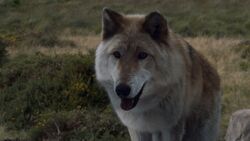 Mentioned in
{{{Mentioned}}}
Date of birth
{{{Birth}}}
[[:Category:{{{Images}}}|Images]]
"I know that's tempting, but if you're trapped inside Summer for too long you'll forget what it was to be human."
―Jojen Reed to Bran Stark
Summer is one of six direwolf cubs found by the children of House Stark. Summer is adopted and raised by Bran Stark.
Biography
Edit
Summer followed Bran around wherever he climbed including the tower where Bran became a cripple.[1] After Bran is bedridden, an assassin tries to kill Bran, but Summer saves him by jumping on the assassin and ripping out his throat, killing him.[2]
Summer is kept inside the godswood of Winterfell. Bran is experiencing Summer's actions and movements in his dreams.[3] After Theon has taken Winterfell, Summer is seen fleeing through the Godswood with Osha, Bran, Rickon, Hodor and Shaggydog.[4]
Summer follows Bran on his journey to
the Wall
. Bran's group are encountered by
Jojen
and
Meera Reed
. When Meera puts a knife to Osha's throat, Summer gets angry but Jojen calms him down. Later, Bran wargs into Summer and uses him to kill some wildlings while he and his companions hide from them in a nearby mill. After encountering
Samwell Tarly
at the
Nightfort
, Summer continues following Bran, along with
Hodor
,
Meera
and
Jojen Reed
to the lands
beyond the Wall
.
Summer is hunting in the Haunted Forest, with Bran having warged into him. Bran is awakened after Summer kills a deer and is about to feast. Minutes later, Summer shows Bran a weirwood tree.[5]
When Bran hears a baby crying, Bran wargs into Summer to have a look. While heading towards the baby he gets distracted by the cry of another direwolf. He goes to have a look and sees that it is Ghost locked up in a cage. Summer runs over to Ghost but falls into a trap. Bran refuses to leave Summer and Ghost behind. Bran and his companions are captured by the mutineers at Craster's Keep attempting to free Summer. They later escape when the keep is raided by loyal members of the Night's Watch led by Jon Snow.[6]
Bran and his companions are attacked by numerous wights outside the weirwood tree of the Three-eyed raven. Summer saves Bran from one of the wights that was right on top of him. After the group is saved by a mysterious child, Summer follows Bran into the cave beneath the weirwood tree.[7]
Appearances
Edit
Image Gallery
Edit
Family tree
Edit
In the books
Edit
In the A Song of Ice and Fire novels, Summer is fiercely defensive of Bran, but is arguably the most playful of the five cubs. He is colored silver and smoky grey, with yellow eyes. Bran names him after waking up from his coma and later mentions, ".... he was the smartest of the litter"
References
Edit