Ad blocker interference detected!
Wikia is a free-to-use site that makes money from advertising. We have a modified experience for viewers using ad blockers

Wikia is not accessible if you've made further modifications. Remove the custom ad blocker rule(s) and the page will load as expected.
Does Melisandre "know" Jon Snow
Edit
Without giving away spoilers... do you think Melisandre senses something "else" about Jon Snow? QueenBuffy
16:46, May 4, 2015 (UTC)
...probably not, but she feels a tingling in the Force when she's near him. Nothing definite. At Castle Black, she looks into the flames for the Lord of Light to send her visions of the future, "but all she saw was snow."--The Dragon Demands (talk) 16:49, May 4, 2015 (UTC)
Awesome. Thanks!! I was curious about this. QueenBuffy 16:52, May 4, 2015 (UTC)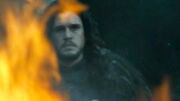 "You see fools in your fire, but no hint of Stannis"?
Melisandre: "When I search for him all I see is snow." --The Dragon Demands (talk) 16:56, May 4, 2015 (UTC)
Oh she is definitely intrigued by him!! QueenBuffy 17:14, May 4, 2015 (UTC)
Elderly Melisandre actress?
Edit
What is the name of the actress who portrayed Melisandre at the end of "The Red Woman"? -Neocarleen (talk) 21:07, April 25, 2016 (UTC)
Heraldry?
Edit
Should there be heraldry at the top of her page?JustyRoads99 (talk) 07:26, July 3, 2016 (UTC)JustyRoads99