Season 6?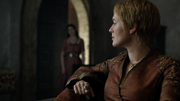 Did Sara Dylan indeed return as the Unidentified handmaiden who has been recurring since Season 2? The handmaiden who brings news to Cersei is out of focus the whole time.
IMDB isn't going to help because I think they just assumed that too; what do HBO credits say?--The Dragon Demands (talk) 17:55, May 4, 2016 (UTC)

So far we have zero confirmation that Sara Dylan returned in Season 6.--The Dragon Demands (talk) 00:05, July 15, 2016 (UTC)
Well, IMDB says that Sara Dylan was in the episodes The Red Woman and The Winds of Winter as "Handmaid". At least it seems plausible she is the person in the background.
Regards Ser Shield McShield (talk) 00:56, July 15, 2016 (UTC)