Thoros
Talk

0
1,720pages on
this wiki
Thoros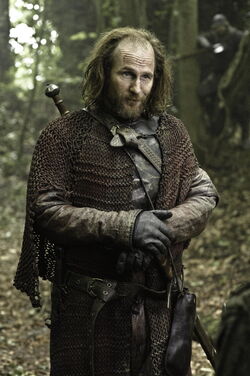 Appeared in
{{{Appearances}}}
Also known as
Thoros of Myr
Date of birth
{{{Birth}}}
[[:Category:{{{Images}}}|Images]]
"Do you remeber Thoros of Myr charging through the breach?
With his flaming sword; I'll remeber that till the day I die."
Thoros, commonly known as Thoros of Myr, is a character in the third season. He is played by Paul Kaye. Thoros is a red priest of the Lord of Light and a noted warrior.
Biography
Background
Thoros of Myr is a red priest of the Lord of Light from the Free City of Myr, in the continent of Essos. Though a priest, he is also a noted warrior and fighter, famous for using a sword coated with wildfire which he sets ablaze before combat as a way of intimidating his enemies.
He fought for King Robert Baratheon in the Greyjoy Rebellion. He was one of the first men through the breach during the royalist victory at the Siege of Pyke, stabbing and terrifying the Ironborn with his flaming sword.[1]
Jory Cassel and Jaime Lannister reminisce about the Siege of Pyke. Jory swears that he will remember Thoros charging through the breach with his blazing sword until his dying day.[1]
Behind the scenes
Thoros was an unseen character in the first season. He was confirmed as a character in the third season in May 2012.[2] Paul Kaye was announced in the role in July 2012.[3] Asim Ahmad was originally going to play the role, but due to scheduling conflicts he had to back out of it. Ahmad will play a different, minor role in the series.[4]
In the books
In the A Song of Ice and Fire novels, Thoros is described as tall, fat, shaved bald, and wearing lose fitting red robes so faded that they appear pink. Thoros originally was sent to Westeros by his order to attempt to convert King Aerys II Targaryen to the faith of R'hllor, because Aerys was obsessed with fire. However, his efforts to preach his religion were in vain, and combined with the atrocities of Aerys' reign he came to question his own faith and grew despondent. Thoros became a regular hanger-on in the court of King Robert Baratheon, kept on in part due to his martial skills. King Robert was also fond of keeping around various interesting foreign visitors as drinking companions, so Thoros also stayed at court due to the good will he enjoyed with Robert.
Thoros competed in the Tourney of the Hand, unseating Beric Dondarrion in the joust. The next day he won the melee competition at the tournamen. He has won many melees in the past as his flaming sword scares competitors and their horses. Sandor Clegane, who is afraid of fire, had lost to him several times.
Eddard Stark orders Thoros to accompany Lord Beric Dondarrion to arrest Ser Gregor Clegane for his raids in the Riverlands. Though Beric appears in the same scene in the TV series, Thoros is absent.
References
See also